The date: February 1999
The locations: Chipping Ongar, Matching, Great Dunmow, Andrewsfield, Wethersfield
The two explorers: Paul Osborne and Nick Challoner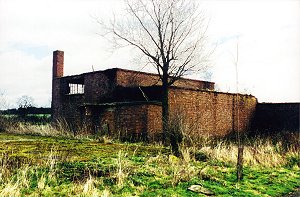 The remains of the ops block at Chipping Ongar

Another year and another chance to go hunting for old airfields. So one late February morn I set out again with pal Nick Challoner to try and search out the rest of the Essex fields. First on the list was Chipping Ongar which was also known as Willingale. It was built in 1942 and utilised hardcore from buildings bombed in the blitz. The airfield was initially home to 387th Bomb Group who flew B-26s, a type commonly used in Essex. The RAF eventually took over the airfield under the control of its Technical Training Command and the MoD closed the base around 1960. In the '70s it was in the running for London's third airport but strong local opposition put paid to that, the final decision being Stansted further north.

It took a fair time for us to find anything but I spotted a large blister hangar in the distance so we headed in that direction. After passing some horses, one of which was demonstrating its bodily functions, we turned onto a narrow track which looked like old taxiway and followed it. It was signposted as a bridleway so we knew we weren't trespassing. Sure enough we came across a couple of old buildings tucked away which had a definite airfield apperance and also the bases of other buildings which had long since gone. We just drove round them before heading back just in case some zealous farmer with a shotun was feeling lucky.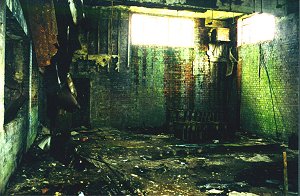 The inside of the ops block

Looking at the map it seemed there should be entry on the other side so a long journey took us round the northern end of the base. Suddenly there seemed to be some taxiway which looked as though it could be aligned with the main runway. We went to investigate. It was another bridleway with a concrete strip running away from the road with what looked like a possibly overgrown runway by the side. The taxiway curved to the left so we followed it further. There happened to be a trio of horses behind us, in fact the same ones we saw earlier. As they started to walk past us one of the horses was slobbering like a rabid dog and the strong wind was blowing it about a bit and unfortunately Nick got a bit of a pasting!

The bridleway brought us back to the buldings we'd seen earlier which couldn't have been more than a couple of hundred yards from where we were now parked even though we'd driven miles to get there. A closer inspection of the buildings was needed. There was no entry to one of them but there was to the other. It was very spooky going inside and thinking of all the things that must have gone on here over 50 years ago. It was difficult to ascertain what the building might had been used for but we plumped for ops room. There was material on the wall which might have suggested a map. I noticed a large pile of spent shotgun cartridges on the floor so we made a sharp exit. Walking back it was possible to see a gap in the trees which was where the runway once lay. We tried to find more evidence on the southern side but private roads and gates stopped us.

There is an excellent museum at Blake Hall, just off the A414 between Ongar and Harlow, which details the 387th Bomb Group as well as some wartime memorabelia. Blake Hall itself was used as an ops room for North Weald nearby and is open from Easter until September.
---
Aerial Views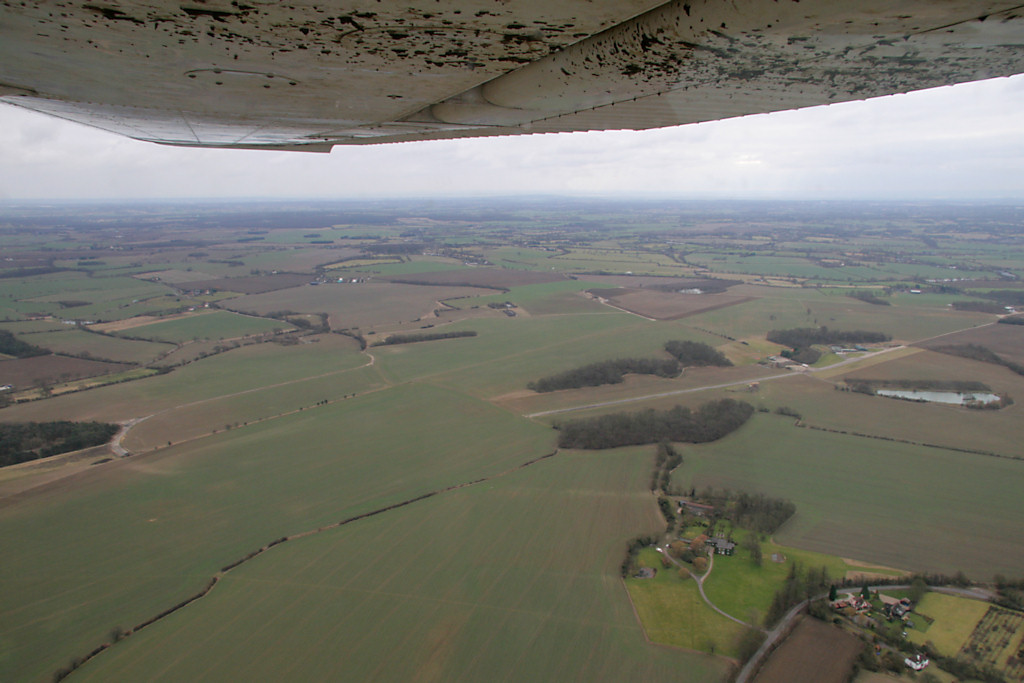 Looking south-east across the airfield. Present day airstrip visible centre-right. Note mud sprayed up onto the lower wing surface and flap of the Cessna 152 cameraship! 22 February 2009. © Nick Challoner.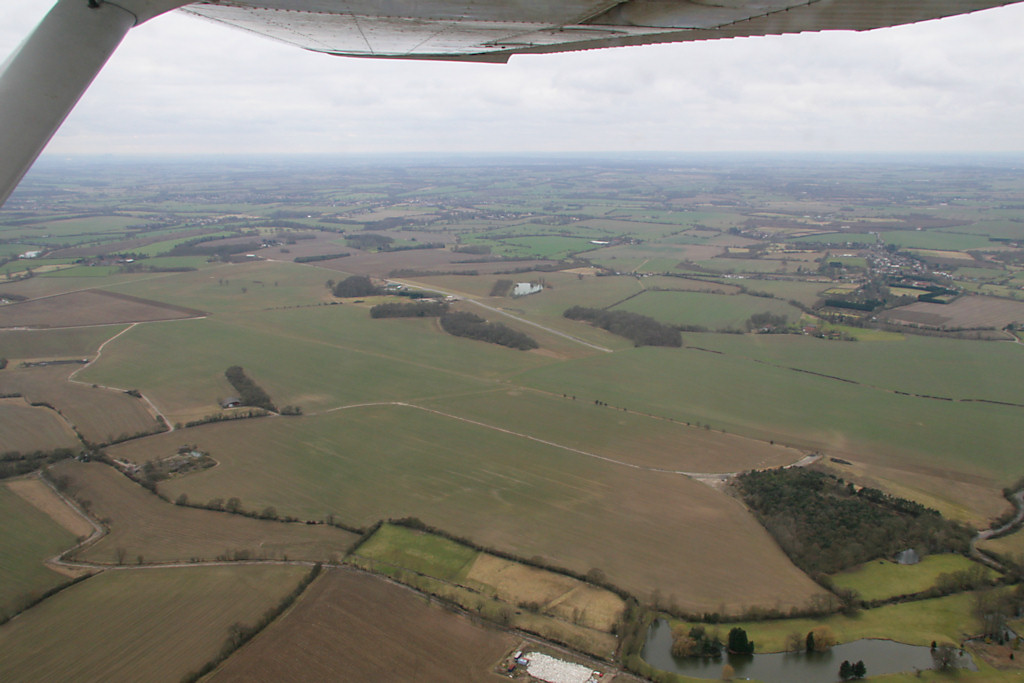 Looking south-west across the airfield. Blister hangar and remains of the ops block visible lower left. 22 February 2009. © Nick Challoner.