Meet our dog, Mandy.
Mandy was a female mixed-breed, five years old when we got her on July 11th, 2004.
When I say mixed-breed, I mean dog, partly chow-chow. She was not, in fact, a Kodiak Bear Cub -- despite appearances to the contrary.
The story begins with the Monobloc exploding into spacetime, and creating the universe, but you'll have to settle for starting in media res with my discovery, at about 5:00 in the morning on Saturday, July 11th, 2004, of the following listing on the website of the New Hampshire Society for the Prevention of Cruelty to Animals:

Now, look at that face. Is that a face? That's a face! I was sure that my wife would veto bringing her home, as she's not a particularly small breed -- although Mandy was, it turns out, a little small for her breed -- and, well, look at all that hair! Much to my surprise, though, Cindy was enthusiastic, saying that she'd love to be able to brush and groom her, as a "bonding experience."
So I gathered my friend Toni, who is a whiz with dogs, and off we headed for Stratham, New Hampshire,and the NHSPCA. Stratham is about a two-hour drive from my home town, but I've certainly driven a lot farther for less reward.
When we entered the NHSPCA offices, the young ladies volunteering there -- and, young fellas, lemme tell you, if you want to meet some gorgeous young women with soft hearts, you need to head straight for your nearest animal shelter; I've yet to see that guideline fail -- greeted us, and asked if they could help us. I explained that I'd seen a dog on their web-site and was interested in her.
"Which dog?" one of the young women asked.
"Mandy," I replied.
The three volunteers gasped with surprise and excitement. "Mandy? Wow! No-one's ever come to see Mandy!"
Now, I direct your attention once again to the image directly above. Look at that face! How is it possible that nobody wanted Mandy? I was shocked!
I met Mandy, walked her, sat with her in a room. She was shy, and very distracted, but very sweet, and loved affection. My decision made, I walked back out to the office, and the deal was sealed. Mandy was coming home with me.
Mandy met our two cats, with mixed results. Mr. BeeBee was most displeased with the new addition -- On Mandy's first night here, he both urinated and deficated on the pants I'd left out on the sofa -- while Mokki was just a teensy bit wary.
My wife was thrilled with Mandy, and fell immediately in love with her. She did indeed start grooming Mandy almost immediately, with prodigious results both in personal bonding -- Mandy loves to be groomed -- and fur gathered. We've got enough already to knit a new dog!
Here's Mandy on her first night in her new home. She's wearing her leash full time for the first couple of days, until she and the cats know each other, for control reasons -- though it hasn't been necessary to stomp on the leash since we got here.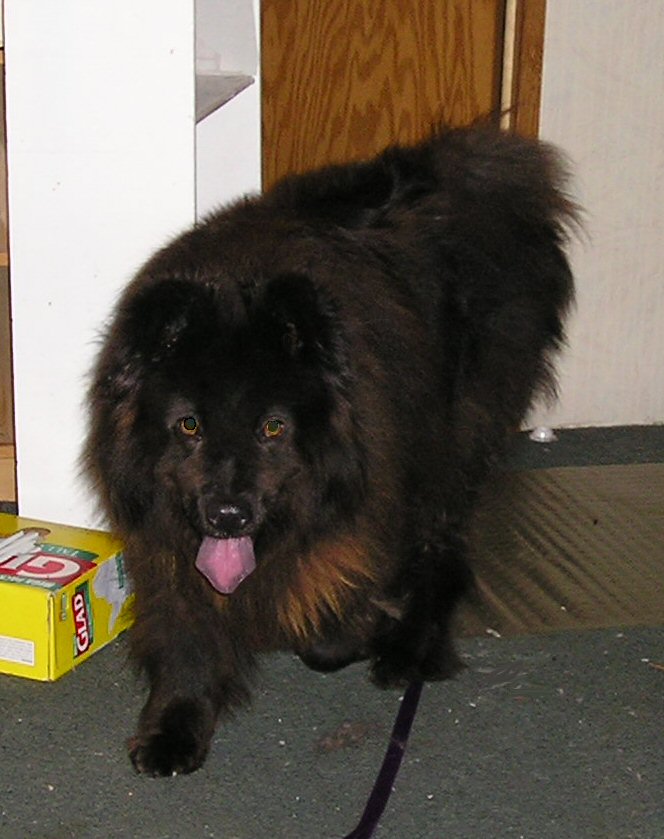 On the morning of the Twelfth, Mandy's first morning with us, she came along to drop my wife off at work, and waitied patiently in the van -- it was early enough in the morning to be cool enough -- while Toni and I had breakfast.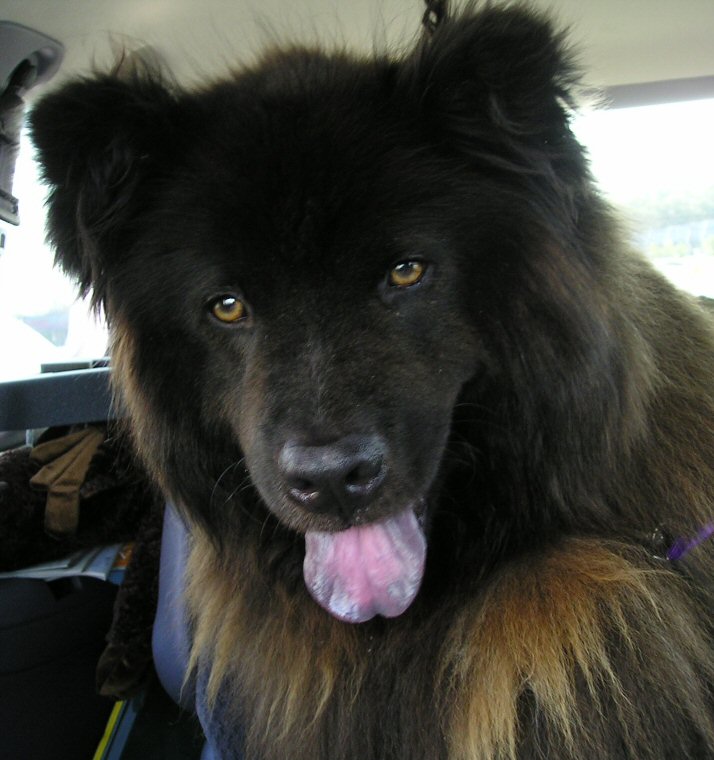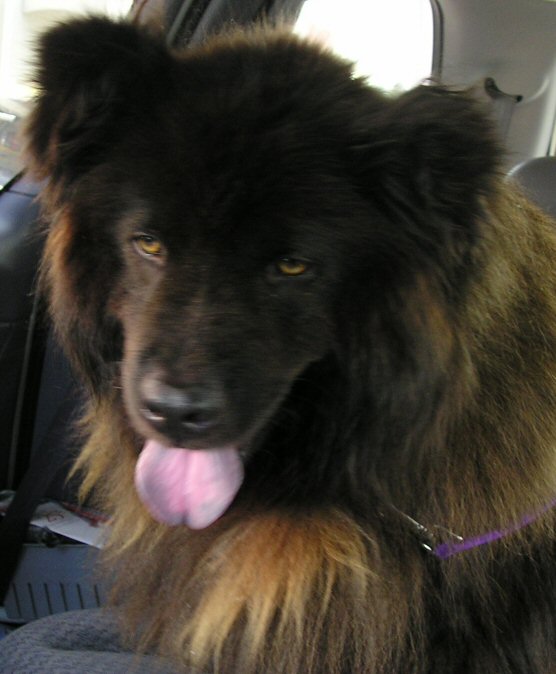 Then we went to Cogshall Park, in nearby Fitchburg, MA, for Mandy to get some excercise -- and her daddy, as well!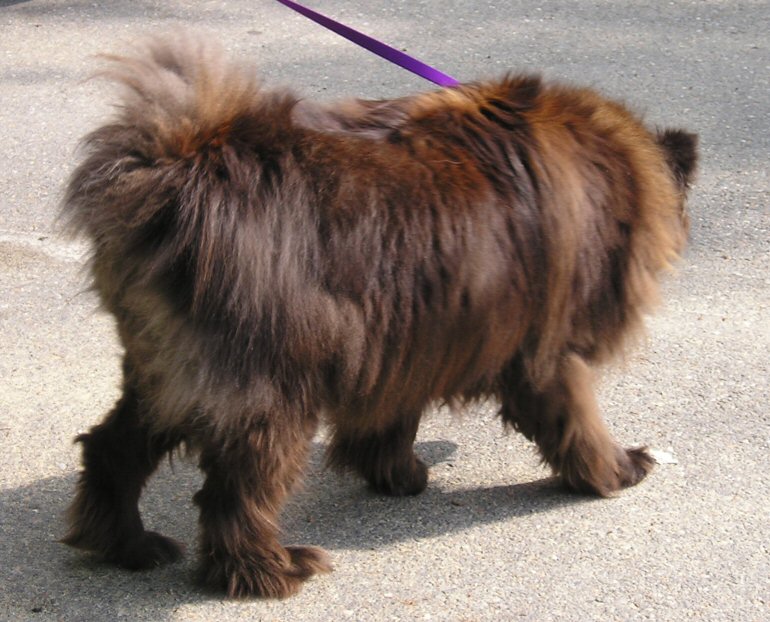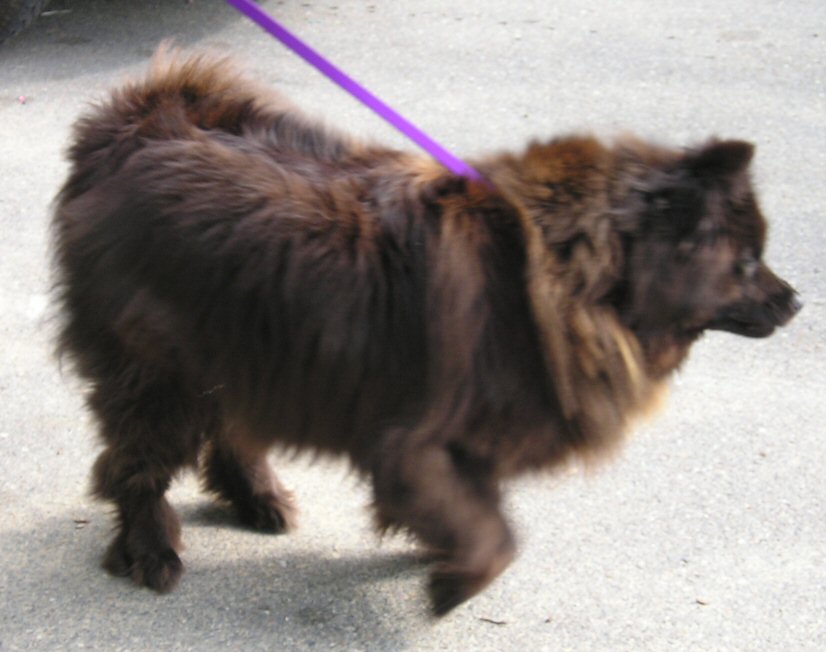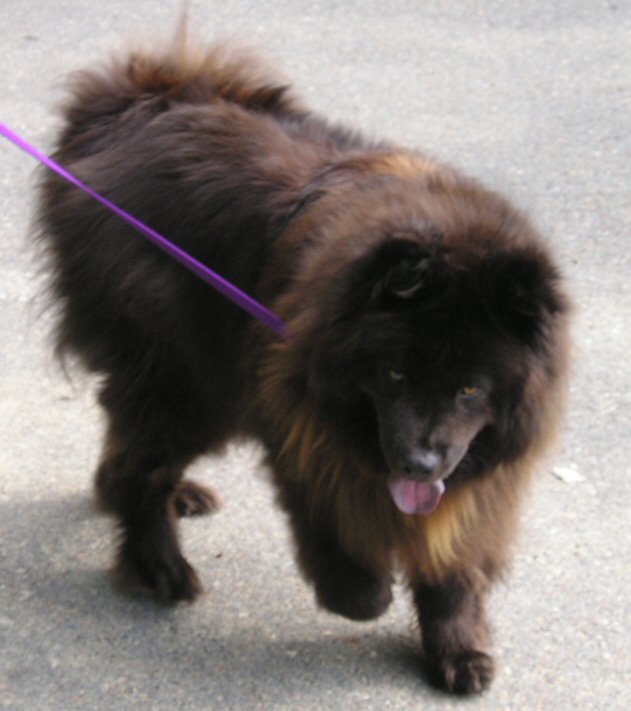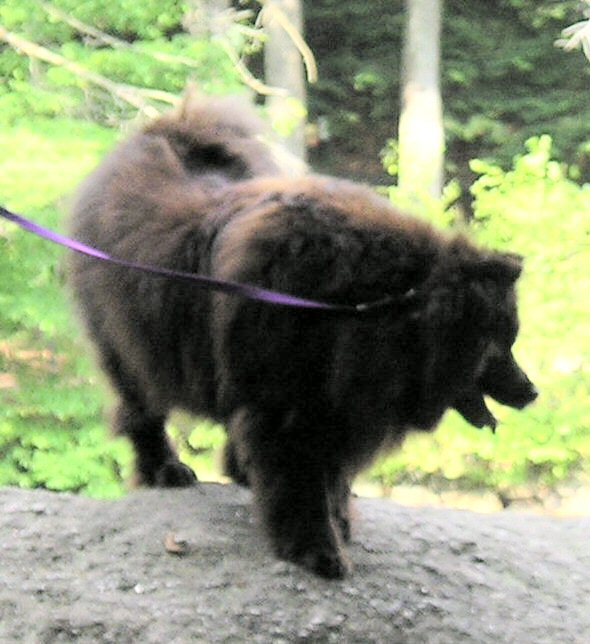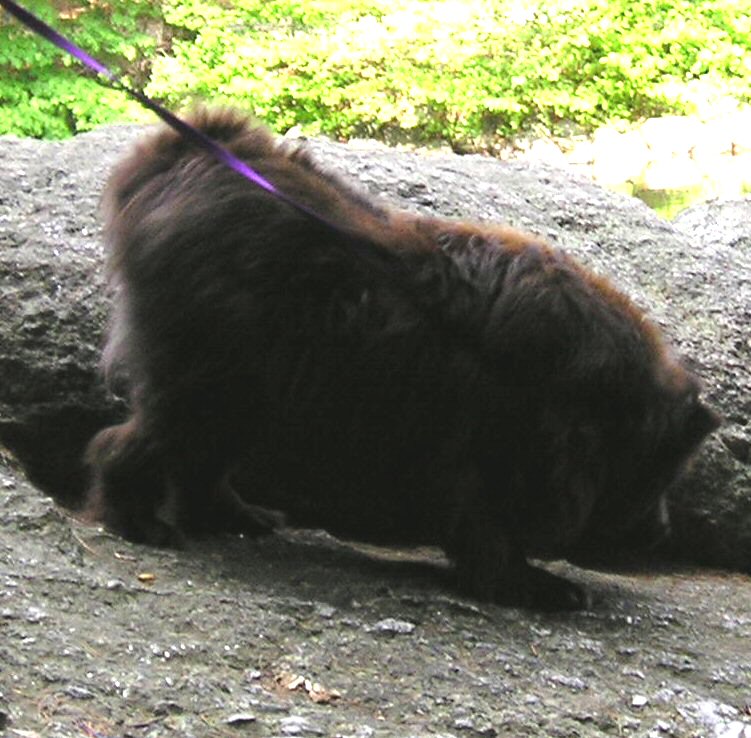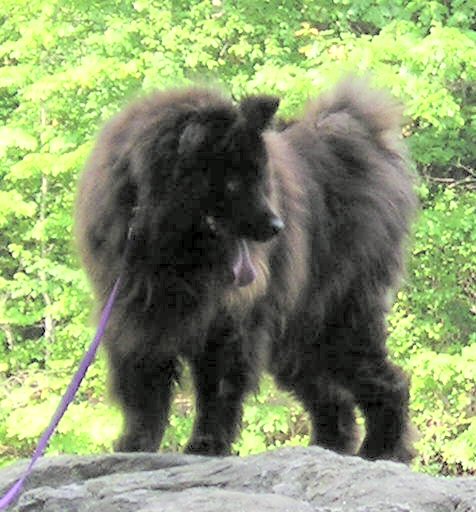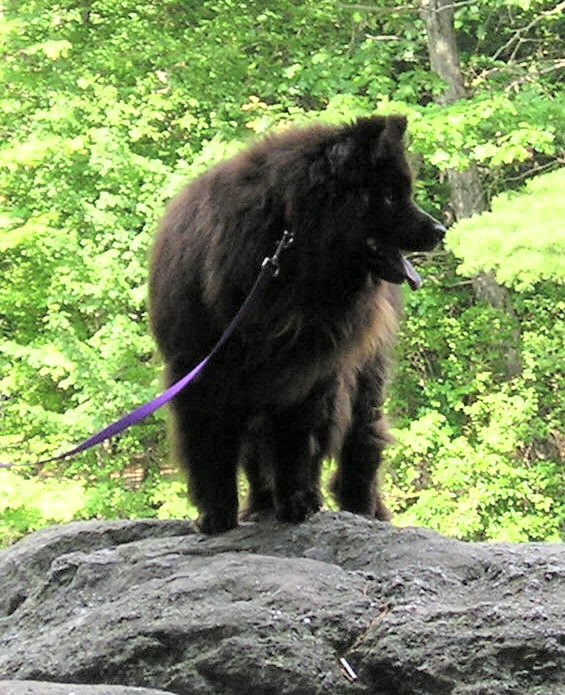 And here we are, having fun together, 8 Months later. Note the quiet, dignity, and grace of her position: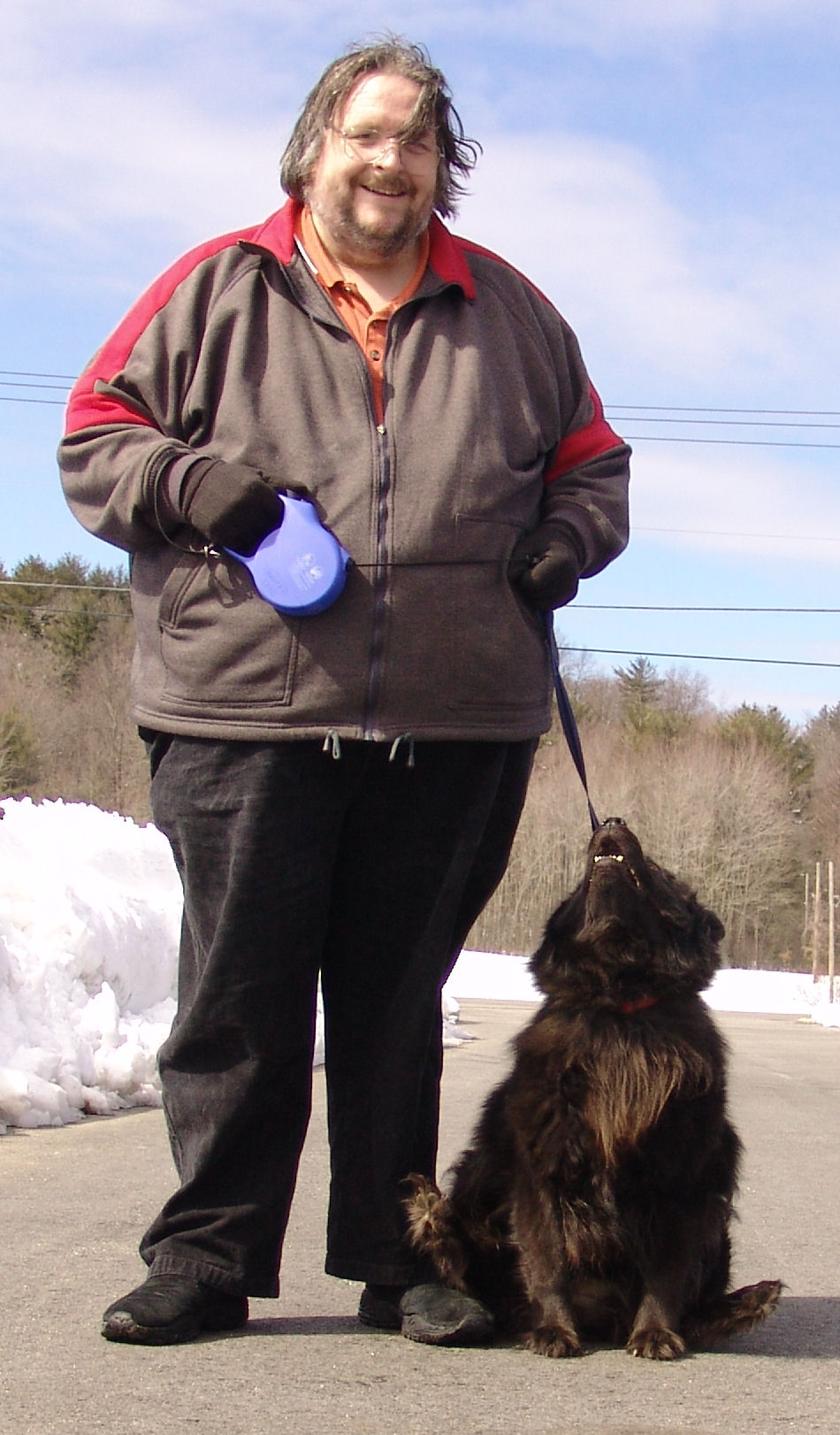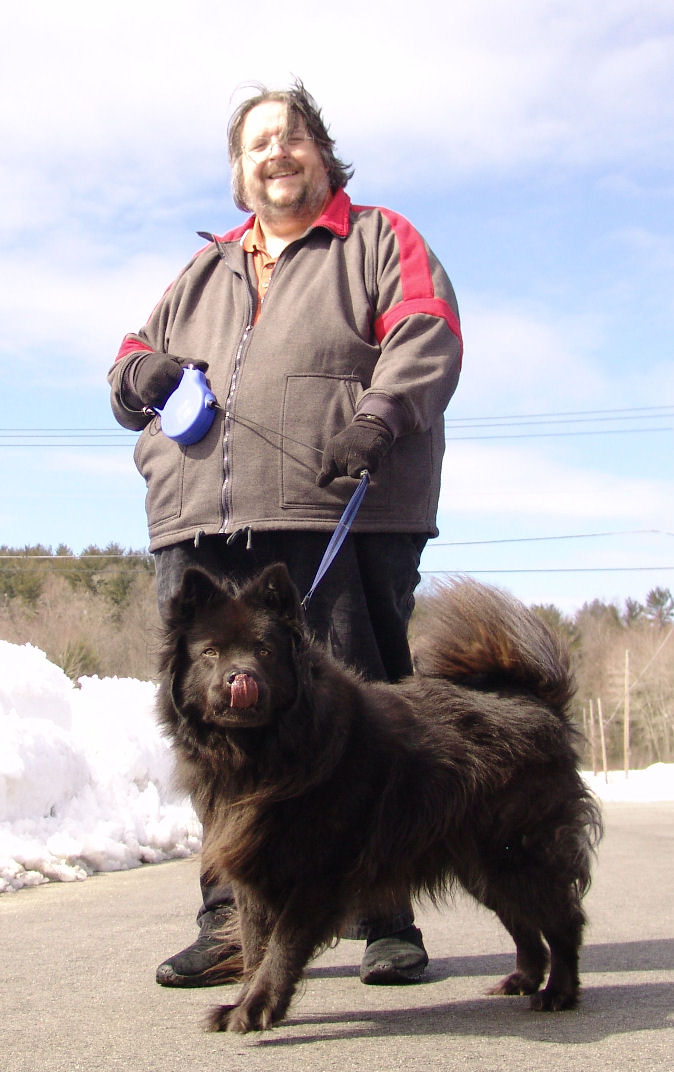 Click for a larger version.
Mandy has recently had itchiness problems, and has had to have a hair-styling event. Presenting, temporarily, Mandy, the Dog-Shaped Dog!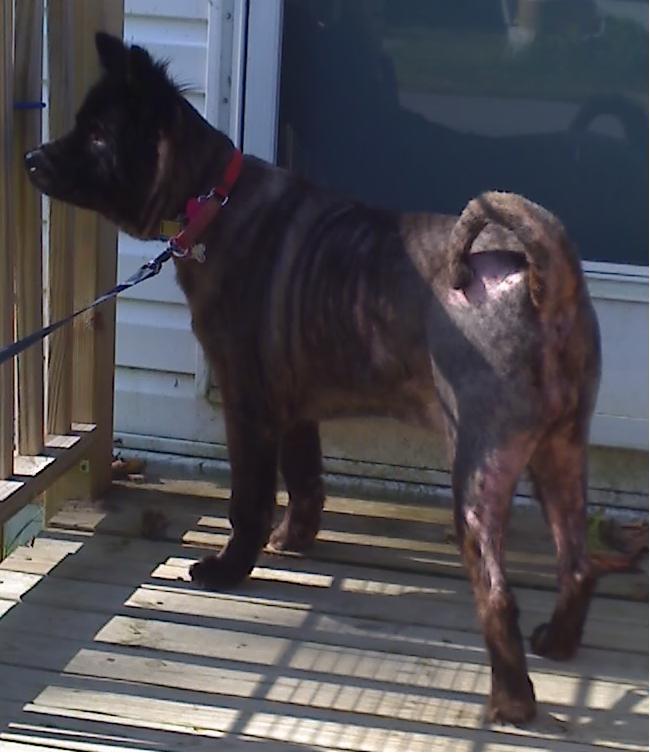 On October 29th, 2012, Mandy came to the room to visit when I wasn't feeling all that well, and joined me for a lovely cuddle.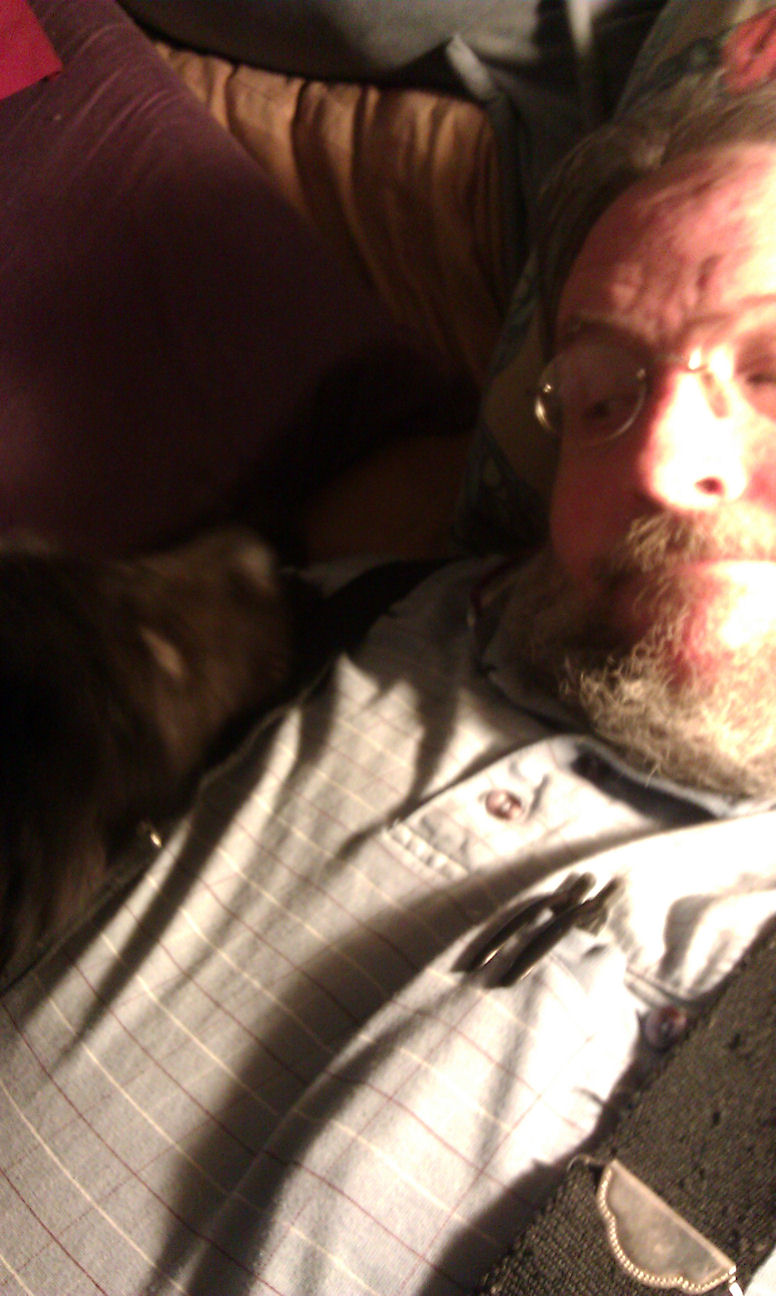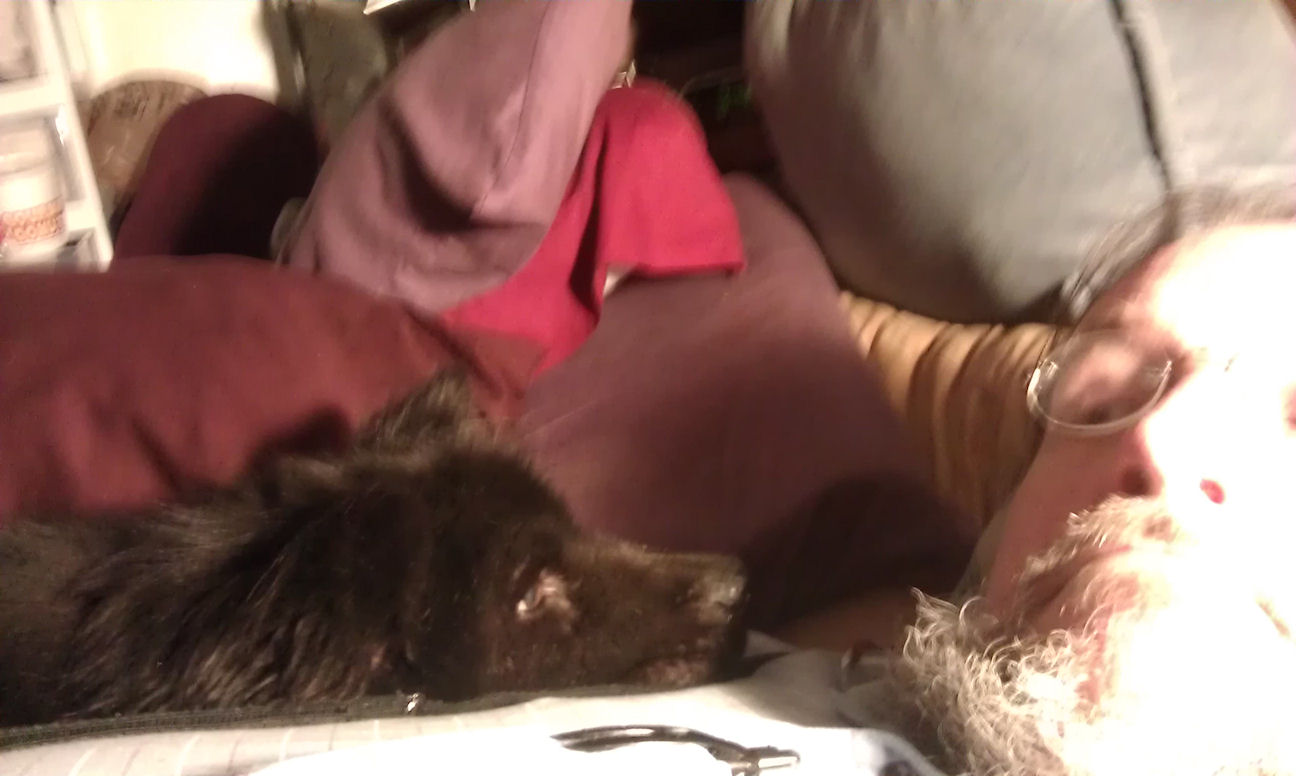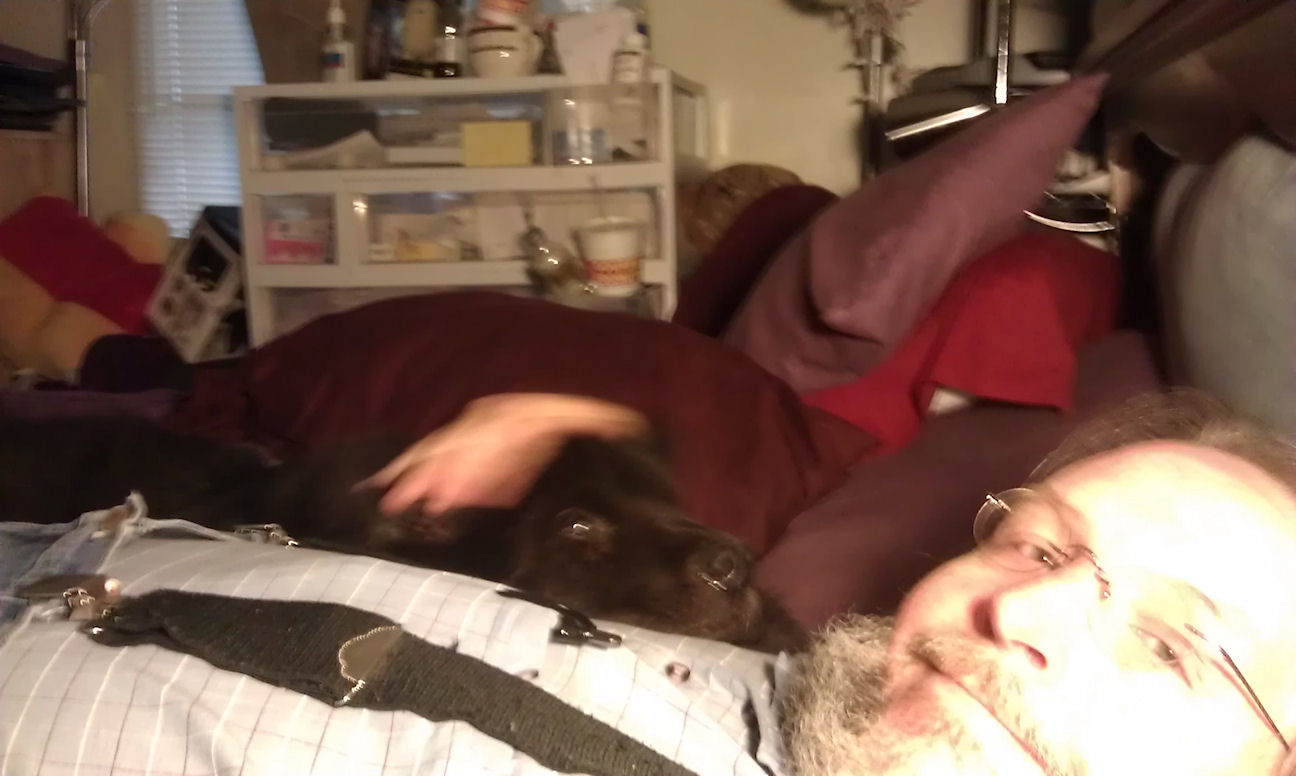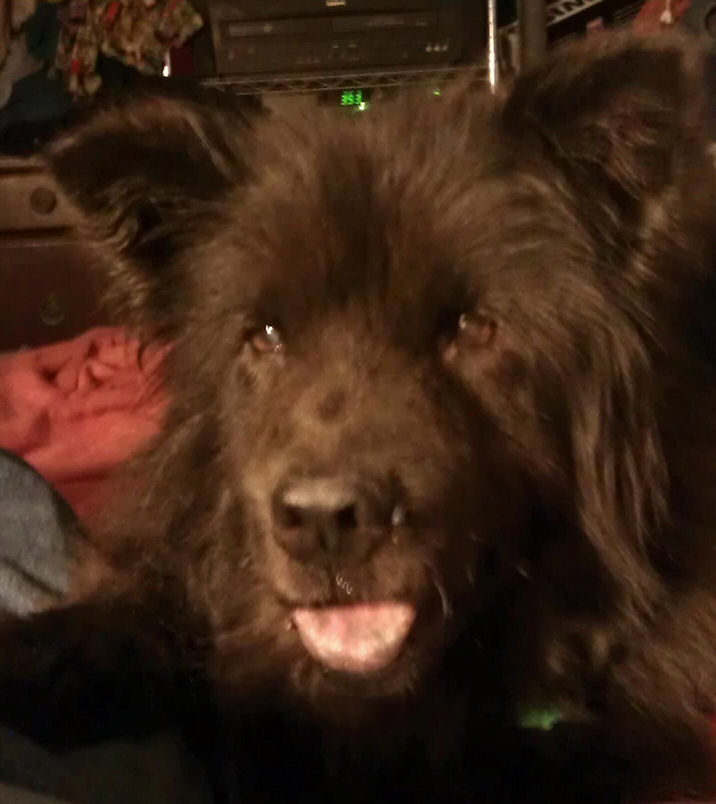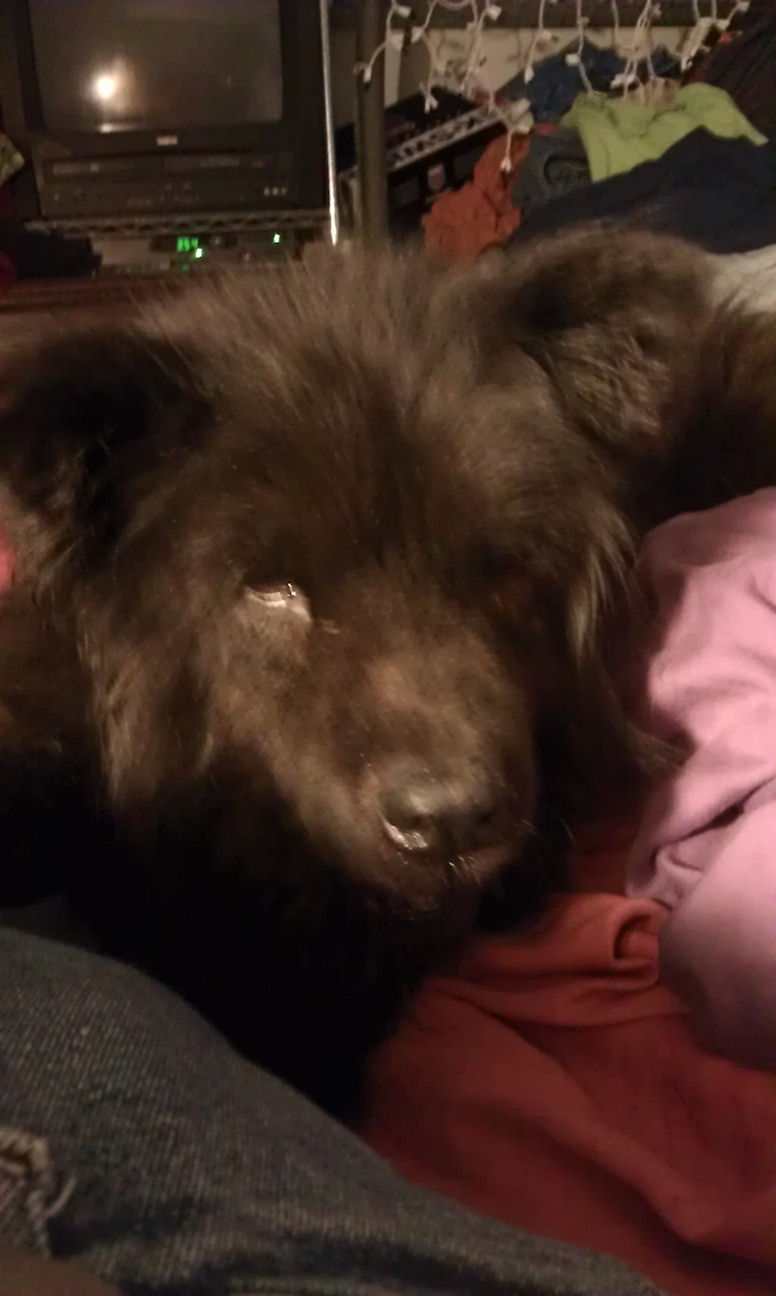 On Sunday, November 18th, 2012, a little after midnight, Mandy was struck with a sudden illness, which seems to have been canine bloat. She passed away at about seven that morning, surrounded by the people who loved her, and who she loved.
She will always be missed in our home. We love you, Mandy.